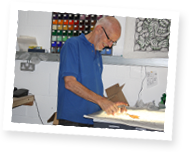 Many remember us being on Redland Road in Bristol, we still have the original stained glass shop sign on our wall today! After moving to larger premises in Bedminster in 2000, the business became more and more focused on stained glass and glass fusing supplies online, a huge range of fusing glass and materials along with the sales of glass craft tools and glass kilns which took us to a 7000 square foot premises in St. Philips. In 2021 we moved to a 9000 square foot facility in Brislington, where we are today.
We have developed excellent glass craft courses which we teach in our lovely studio spaces and our list of classes is still growing.  From how to make stained glass to fusing, painting on glass, and masterclasses from visiting glass artists we have a glass craft course for everyone.
In June 2004 the business was taken over by James & Deborah Paget. Since then the company has been expanded rapidly with more choice than ever being offered from the store. We are focused helping our customers with great service and support with their glass work.  We are a friendly company and like nothing more than our customers  feeling free and happy to ask our team anything. 
In August 2005, we launched our online shop for stained glass and fusing supplies, which, combined with a fast and reliable delivery service, has become very popular with glassworkers, home and hobby crafters, trade customers and schools across the UK and internationally. We take pride in our great service, low prices and fast deliveries. We are a firm who takes care of our customers and hold them in the highest regard.